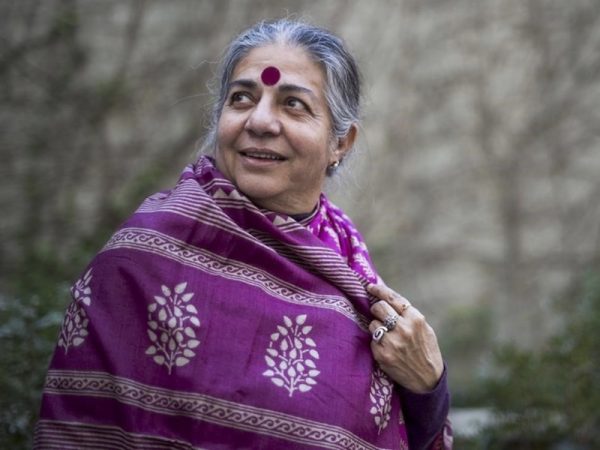 Her parents were close to Gandhi and it was in this pacifist and militant environment that Vandana Shiva grew up in India. Her grandfather died as a result of a hunger strike that began to support the creation of a girls' school in his village … The activist seed is in her and very quickly, hatch her own battles: ecology, protection of Biodiversity and farmers' rights. She became a figurehead of the country and carried the voice of many Indians outside the country. She was named winner of an alternative Nobel Prize in 1993.
Woman of fund and action
She is a PhD in Philosophy of Science. She studied abroad but decided to return to her roots. She gives rise to associations which weigh in opposition to unnatural projects. With her association 'Navdanya', she creates a seed bank that opposes the loss of global biodiversity and offers the possibility for thousands of farmers to re-apprehend biological crops. She refuses the devastating action of big companies, dislodges Coca Cola, fights against Monsanto. All this with words and non-violence, like Gandhi. She warns. She denounces … Operation Green Track, among other things, a large government plot to allow big companies to put their hands on raw materials of the country. She is emblematic of the anti-globalization movement in India but now in the world. She  is admirable.
Know more about Dr Vandana Shiva and her organisation Navdanya here
Photo : Copyright belongs to respective owners