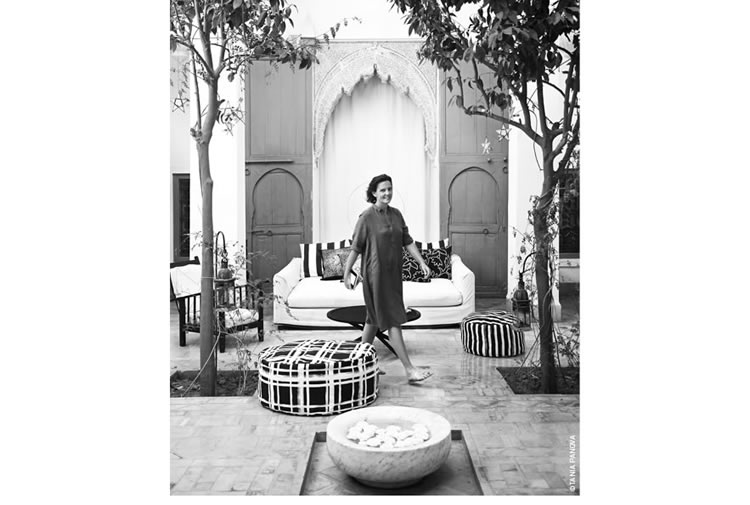 No- Mad is before anything else meeting, but it is also a step in the personal evolution and on the creative route of Valerie Barkowski . No-Mad is also a challenge and especially a brand of heart .
Belgian roots. Russian , Moroccan, Indian  by adoption. Multicultural . Valerie Barkowski is here and elsewhere . But what is sure is that she drops her suitcases always where her heart dictates to do so. An instinctive approach, is one of the leitmotifs that drives her creative life … and No-Mad is no exception .
No-Mad is a fullfilled project. To assign the concept and philosophy of an Indian brand for Indians to a Belgian … That was a challenge that Anuj Kothari took on and immediately gave « carte blanche » to Valerie Barkowski, while looking to her background and openness. And she was not totally new to the Indian universe. Foremost tourist, she returned, for years, with an armful of traditional crafts from the bazaars to the amusement of the Indians. Products that she liked the simplicity, refinement , tradition . Gradually India has crept into her everyday life. After six years of work in Jaipur , she was hired by Synergy Lifestyles to create a brand of home linens – Bandit Queen was born. A unique experience that was immersed in the complexity and beauty of Indian handicrafts .
Love of beauty, quality and tradition , Valerie Barkowski has always loved to enhance the know-how of several handcrafts both in India and outside its borders. Her external look also, sometimes, pulls out common objects which are forgotten, neglected , or drowned in the mundane everyday life . With No- Mad, she has the ambition to put them again in the spotlight and to revisit them for better appreciation . Not having Europe but  the Indian market as a priority . The underlying idea is to bring the Indian public to take another look on the beauty , the richness of its culture, to perform an act committed to the preservation of heritage and craftsmanship .
Of course, the creation of Valerie Barkowski is at her image … objects hit her sensitivity and emotions, may they come from India or elsewhere. No-Mad then mixes cultures and sometimes give rise to items with a crisp direction, untouched quality and usefulness always in line with the Indian way of life.
Discover the No-Mad Tribe, a community of people we love and admire for their authentic work and lifestyle on our journal HERE