India is defined by its epic monsoon ! This is when we truly become spectators to the natural bounty it offers. Our culture is rich with the songs and ragas that were sung by our ancestors, iconic films that celebrate and romanticise the rains with their music and entire plot lines even, and so we thought we'd put together a list of films, in order of nostalgia, to enjoy when one is directed indoors thanks to the rain…

1. Singin' in the Rain (1952)
The Monsoon is truly a musical season and the delightful song and dance in this Gene Kelly and Debbie Reynolds starrer makes every grey rainy day more light hearted. We would also claim that the rainwear in this movie is in true No-Mad style !
2. Shree 420 (1955)
Raj Kapoor and Nargis under a black umbrella, in the rain, on black and white film are all the reasons needed to stay in bed with a breakfast tray and watch this film !
3. Chalti Ka Naam Gaadi (1958)
Another Bollywood icon, Kishore Kumar's Chalti Ka Naam Gaadi is the perfect tonic of comedy on a particularly gloomy day this Monsoon season. It is uplifting, funny and takes credit for one of the most iconic rain songs "Ek Ladki Bheegi Bhaagi Si" featuring everybody's favourite ~ Madhubala.

4. Breakfast at Tiffanys (1961)
Starring Audrey Hepburn, this movie takes you on a wonderful journey to New York City, also known for its rainy season, which is where the closing scene is set, it is a happy ending of course. A favourite for S L O W Sundays with fresh coffee, croissants and cookies from your local bakery !
5. Manzil (1979)
Although it is acclaimed for its story and acting, we add Manzil to our Monsoon movie list for its song "Rimjhim Gire Saawan"…another Kishore Kumar, Lata Mangeshkar and R.D Burman masterpiece. The song is filmed around Bombay over the span of a rainy day and is the perfect ode to our city Mumbai and its defining monsoon M O O D !
6. 1942 A love Story (1994)
Set against the backdrop of the decline of British rule this Bollywood romance won R.D.Burman his last Filmfare Award for Best Music Director…we couldn't exclude this film as it may be the only other contender for most iconic songs in the rain amongst the other in this list…

7. Taal (1999)
Taal is a film for those who love music and dance…and monsoon is the best season to enjoy the award-winning A.R.Rahman soundtrack of this film, according to our expert opinion !
8. Monsoon Wedding (2001)
Monsoon Wedding is directed by one of our favourite filmmakers Mira Nair and written by Sabrina Dhawan. A modern and colourful romance through the lens of an Indian wedding set in Delhi, this film depicts big Indian families, eccentric wedding planners, love, and relationships with the Monsoon as its backdrop. I has some really good music…and is best enjoyed with a cup of masala chai !
9. Lagaan (2001)
2001 was a great year for film…Lagaan is a period drama set in the times of the British Raj and is a stunning narration of that time, especially how closely the culture and history of India is tied to the Monsoon.
10. Monsoon (2014)
A Canadian documentary by award-winning filmmaker Sturla Gunnarsson, with music by The Bombay Dub Orchestra, Monsoon is a cinematic journey into the breathtaking landscape of India and tells stories of individuals from the subcontinent whose lives are entwined with this natural phenomenon in different way. It is a beautiful exploration of how this annual spectacle unites nature, science and culture in the land of believers. In Rohinton Mistry's words, "The monsoon is one of the greatest shows on earth with its terrible grandeur that can go quickly from blessing to cure. Everyone should submit to the experience at least once. If that is not possible, the next best option is to see Sturla Gunnarsson's MONSOON."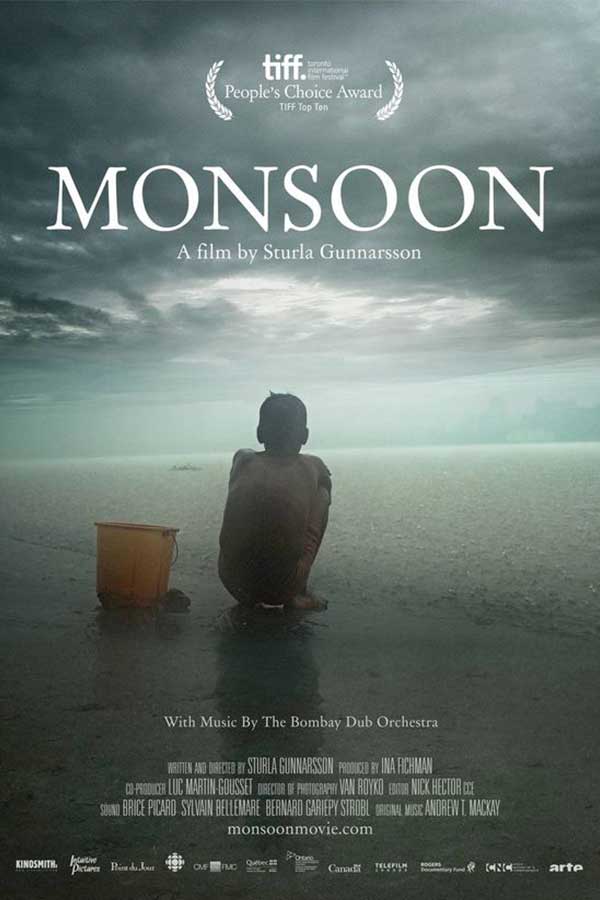 Explore a pictorial journey through India on Pinterest page HERE