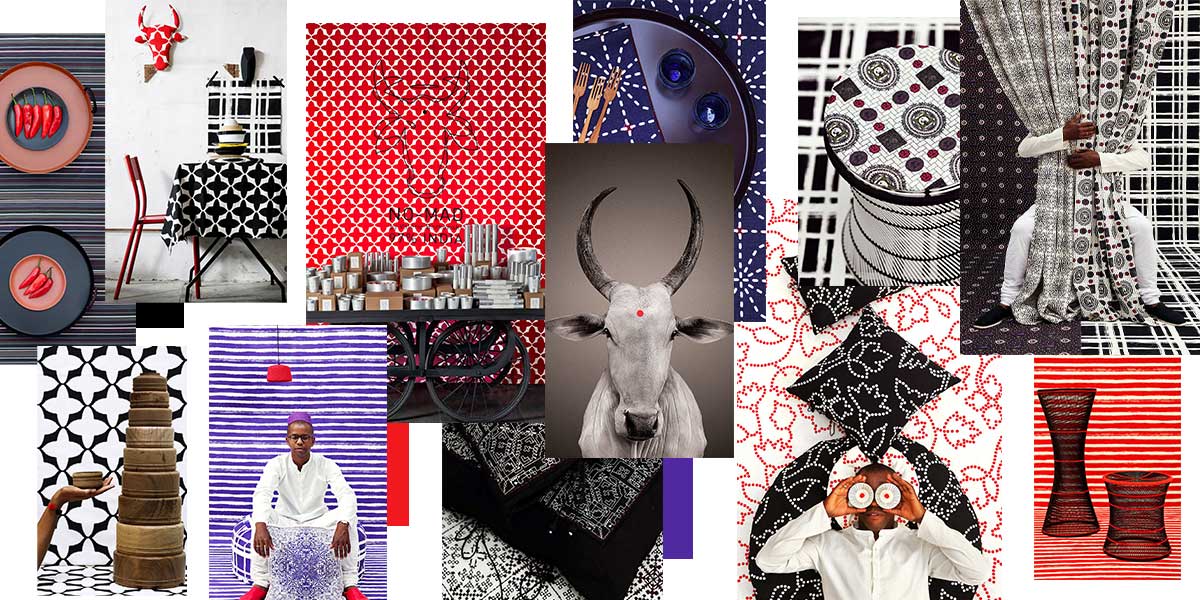 With a desire to surprise, to arouse curiosity and to reinvent the daily life, No-Mad revisits objects that surround us. We like to tweak traditions, to write new stories that fit seamlessly into our contemporary lifestyle. Every No-Mad product tells a story, the story of India, its local and ancestral crafts, twisted with utmost respect. Timeless, Authentic products that cross time, inspired by everyday India and beyond…We like the idea that our products are born to cross time…almost like modern heirlooms. We call them the No-Mad ICONS…Take a look..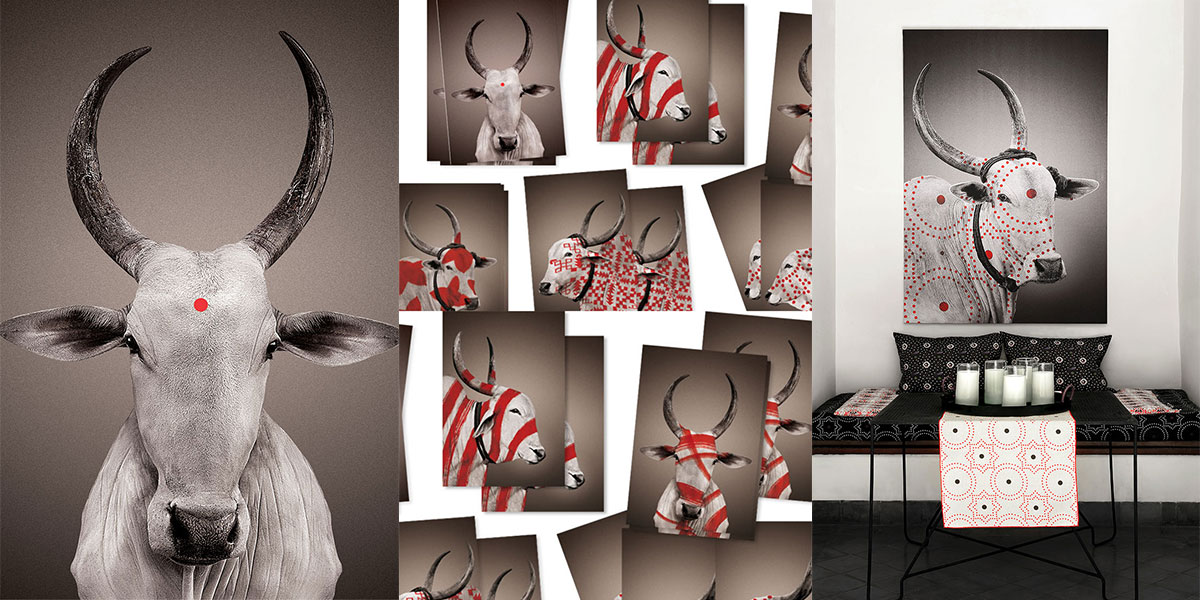 NANDI Wall Art ~ Nandi, an Indian bull in all its elegance and simplicity … Since inception, Nandi has been designated the brand's muse. . A worthy representative of a collection, embedded in Indian culture. She represents NO-MAD, embodies it perfectly. Digitally printed on cotton canvas or photo paper, No-Mad celebrates her beauty unadorned or colored with red coats reminiscent of the brands signature prints. Whether displayed alone or in a series of three, Nandi adapts and adorns interiors in India and elsehwere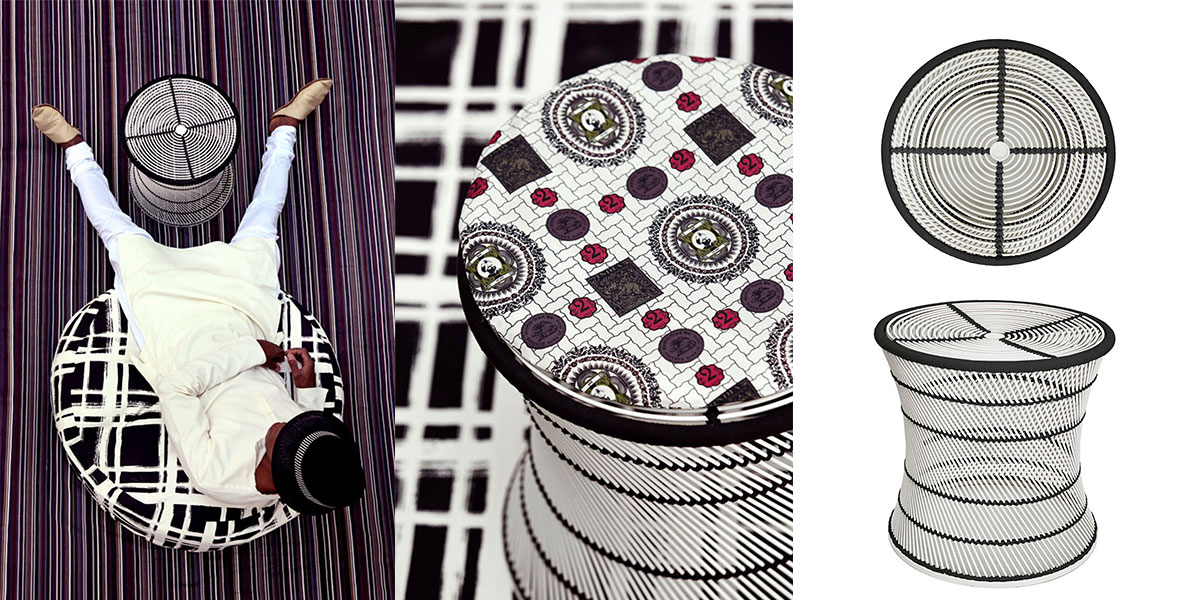 The No-Mad MUDDAH Stool ~ With a desire to surprise, to arouse curiosity and to reinvent the daily life, No-Mad revisits objects that surround us, as a Muddah does. Traditionally a stool, the Muddah turns into à stylish side table. An object that lives, especially as an object that No-Mad wanted to revive.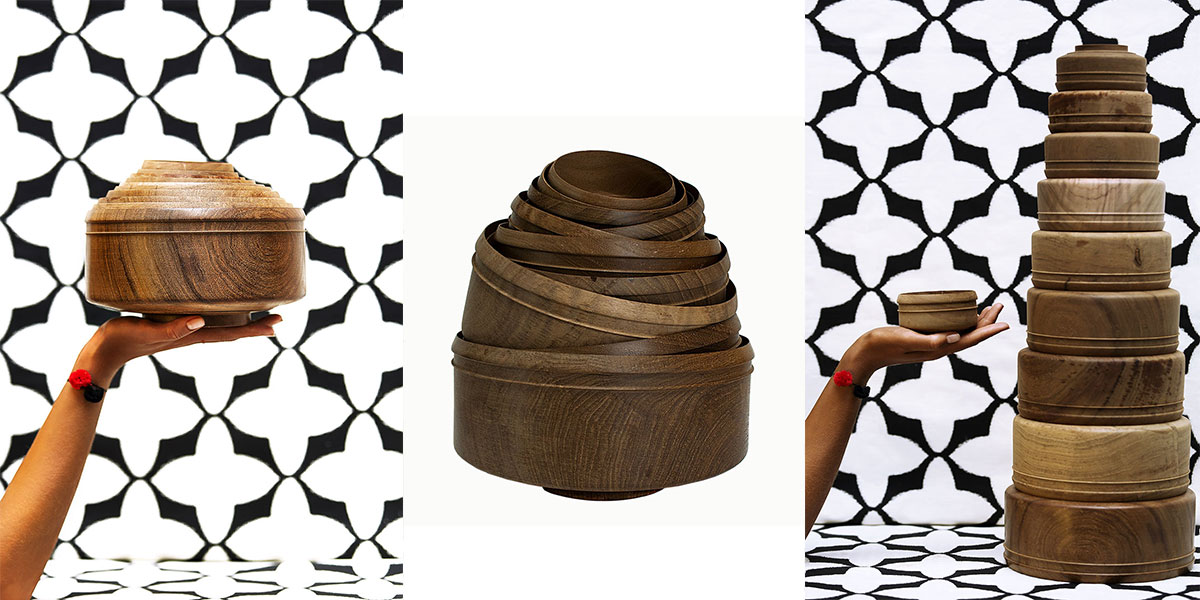 KUNDA Monk Bowl ~ A master class in craft, sustainability, and tradition, the KUNDA monk bowl set consists of ten individual pieces all hand-lathed from one section of wood; each one carved from the heart of the bowl that preceded it. Crafted from the strong, dense grain of Rohida wood, these elegant nesting bowls trace their roots to the monks of India's Jain community and are a poetic expression of utility and timeless style.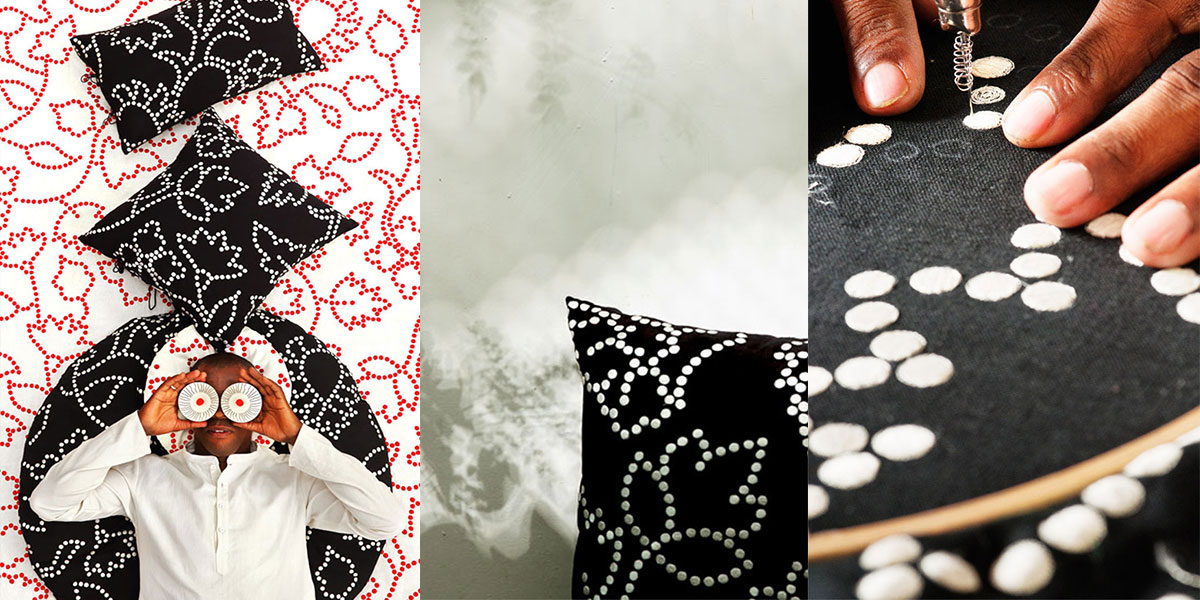 GUNJAN Cushions ~ Warm, thin, light and sweet….Kashmir shawls are often embellished with hand embroidered floral motifs. No-Mad was inspired by the delicacy of these traditional patterns. A real expertise. From this expertise, a unique and authentic work is born. The GUNJAN designs are machine embroidered dot-by-dot until a unique motif is revealed. Playing beautifully with proportion and scale, each cushion is finished with handmade "dori" string closures made by the traditional "patwas". The end product is a piece of extraordinary beauty and workmanship. At No-Mad we love to infuse a modern soul into these ancient crafts. Close to tradition, timeless always.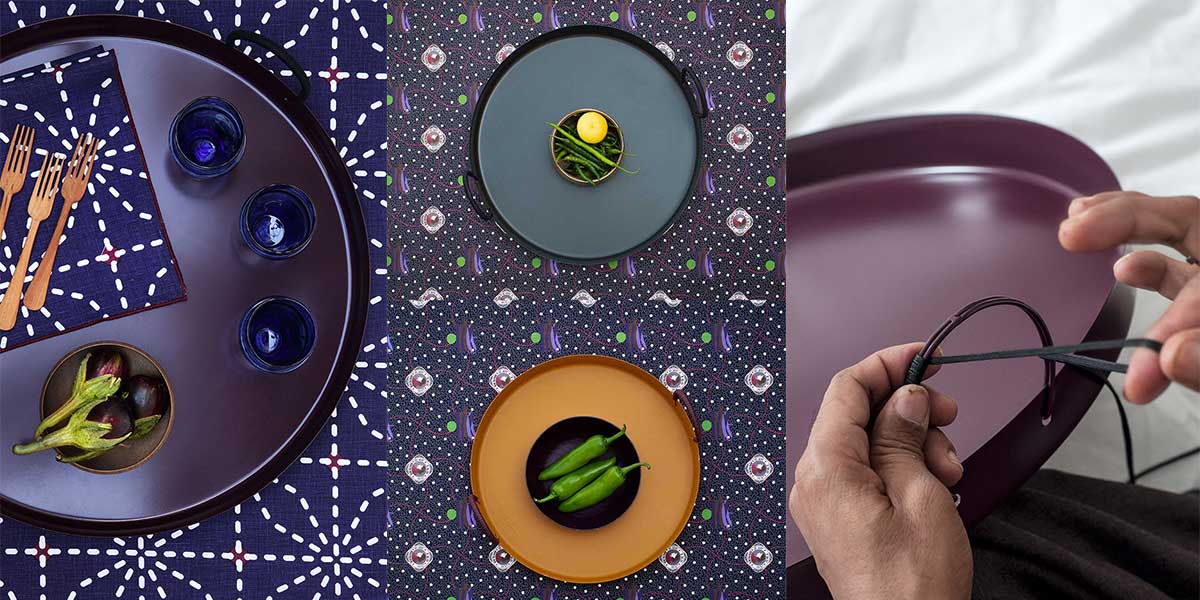 The THALI Tray ~ True to its philosophy of revisiting mundane everyday objects, we tweaked the traditional Indian Thali. A simple object found across every household in India, we imagined the Thali as a tray, in different sizes that fit in one another, like the Russian Matryoshka dolls, again a part of our 3% elsewhere philosophy.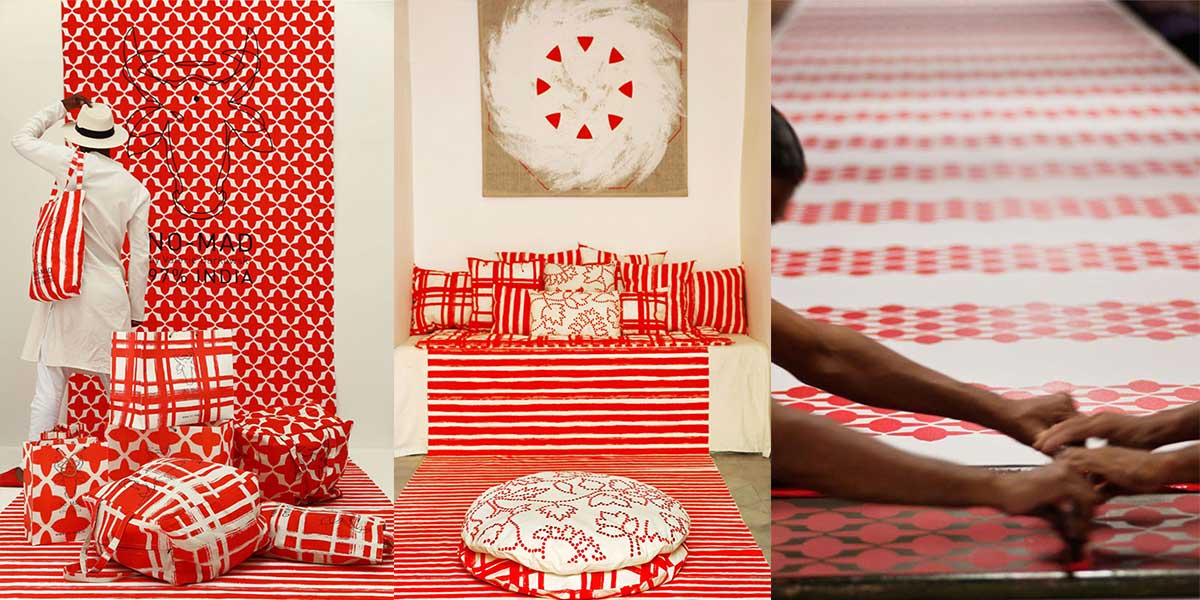 The No-Mad Prints ~ When an idea is pertinent, it ends up creating its own existence, by evolving itself. This was the case of the signature No-Mad prints, a strong symbol of identity of the brand. Strong, Simple and Authentic. A recurring theme for No-Mad. In the beginning, it was about packaging. This packaging was imagined in these bold brushed strokes stripes, tartan and cross in Red and white.purple and more…Cushions, Table linen and even fabrics by the meter. The possibilities with these prints were limitless. It was photographed, show-cased to such an extent, that what in the beginning was just a visual element became a collection of timeless signature prints. A happy accident !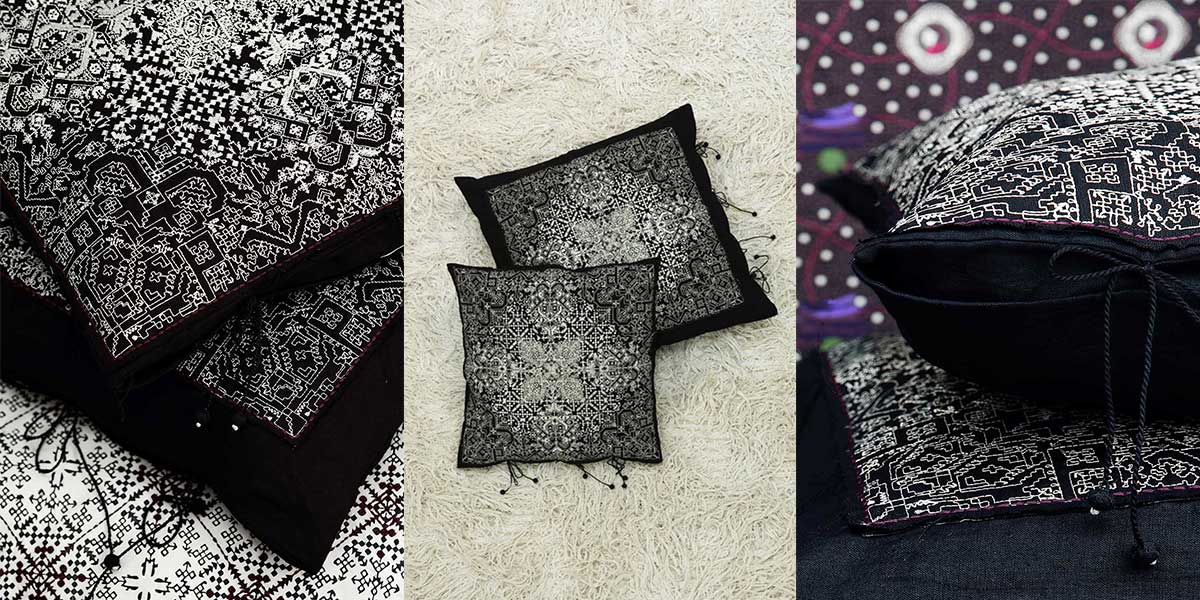 No-Mad has a heart that beats for India, its feet are rooted in this land, a glance that delves into the daily life of the country. This thirst for India is the essence of No-Mad. But occasionally, the brand allows inspirations from beyond the borders to flow.  To bring a new breath. To adapt and capture the best from elsewhere. Moroccan FEZ Embroidery. An authentic and traditional craft, dazzled No-Mad so much that the brand enjoyed forging a link between India and Morocco.  An iconic craft re-interpreted, with respect for tradition and timelessness.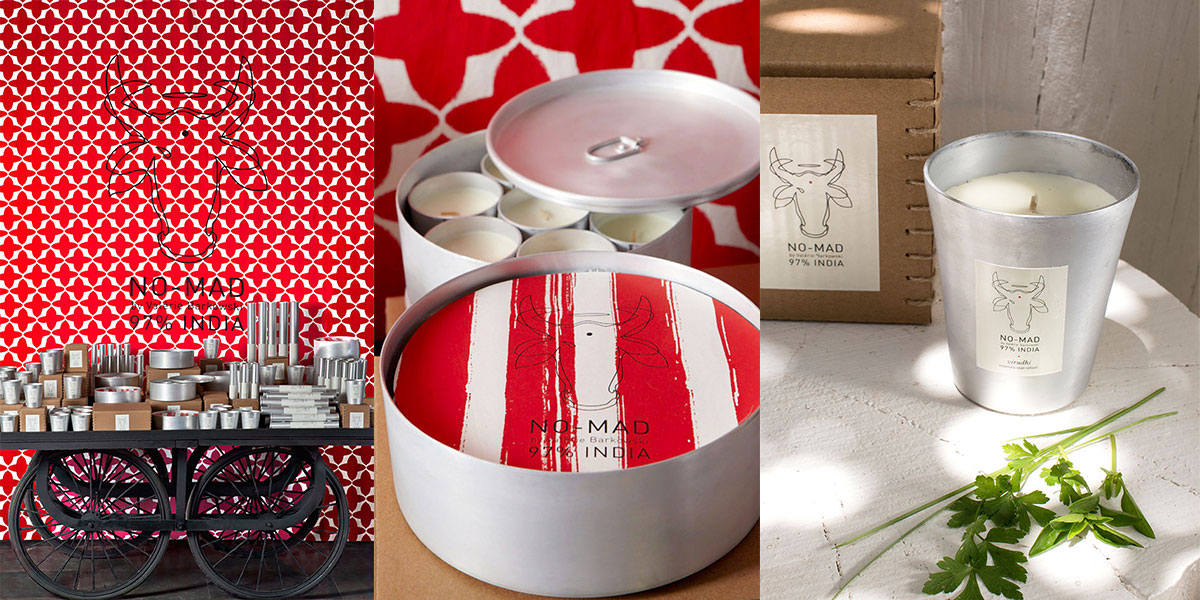 No-Mad GILAAS Candles ~ No Mad-likes authenticity and finds it in the Indian kitchen, more specifically in the "LASSI" Glass. We decided to give them a new breadth, to thwart habits, to give a nod to tradition, to induce everyone to take a fresh look at everyday objects. These so popular containers host tailored scented candles, born out of scents and smells that perfume the country.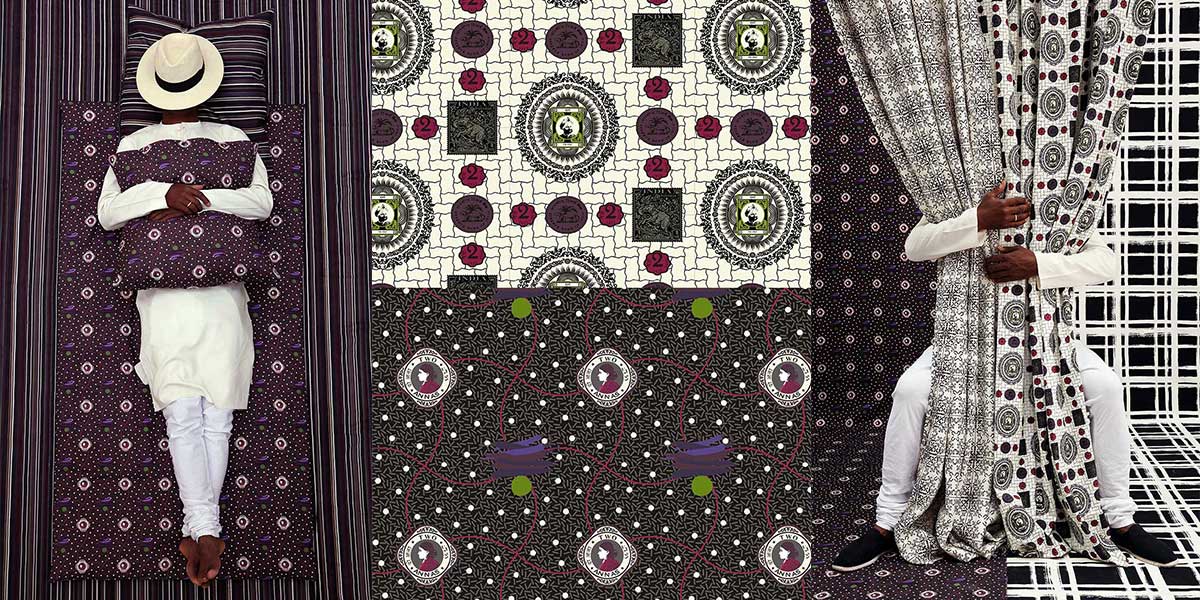 LASITA & IHITA , The Indian Wax Prints ~ An African breeze blows over No-Mad. We are inspired by these bold, colorful wax prints that adorn the African women. We twisted them by playing with Indian codes. The cobblestone sidewalks of Mumbai became the base motifs for the fabric. To this we added the Bindi, postal stamps, vintage coins, Nimbu Mirchi. These symbols of everyday India. LASITA & IHITA, two designs born out of this cross cultural collaboration. Two authentic, timeless fabrics that have a foothold in India but inspired by elsewhere….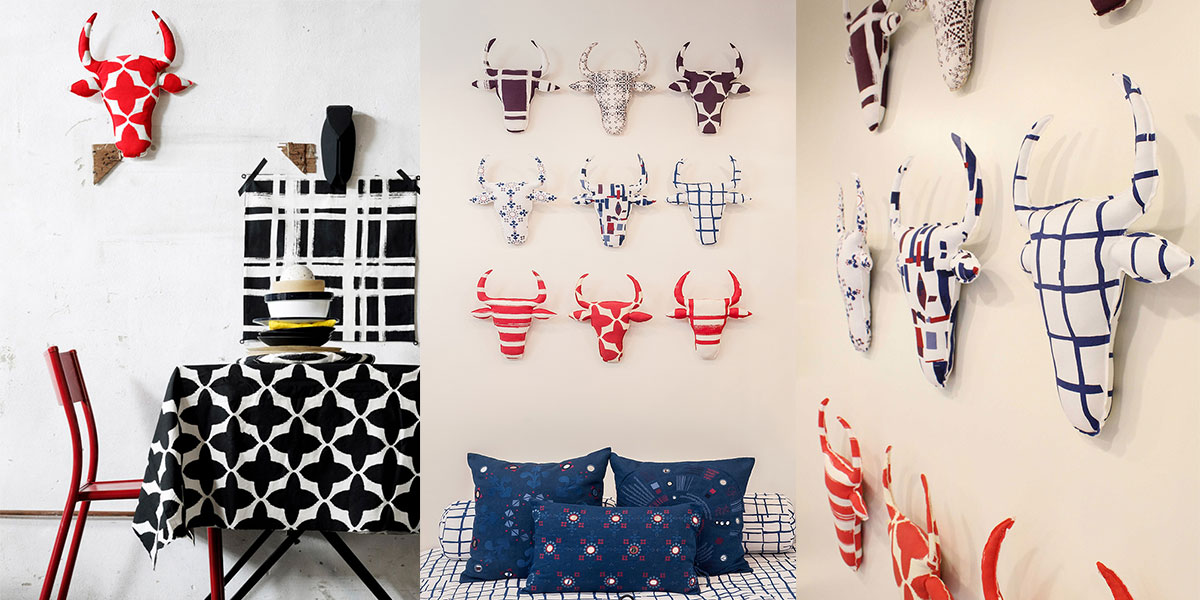 NANDI Dolls ~ The Nandi shaped doll cushion made with No-Mad fabrics is one of those creations that go beyond their initial purpose. Initially, this doll was designed as a natural marriage between the mascot of the brand and its colors, designs, textures. The feedback was so positive that we decided to make a separate product in the collection.  An unexpected creation.
Shop the No-Mad ICONS on our webshop HERE