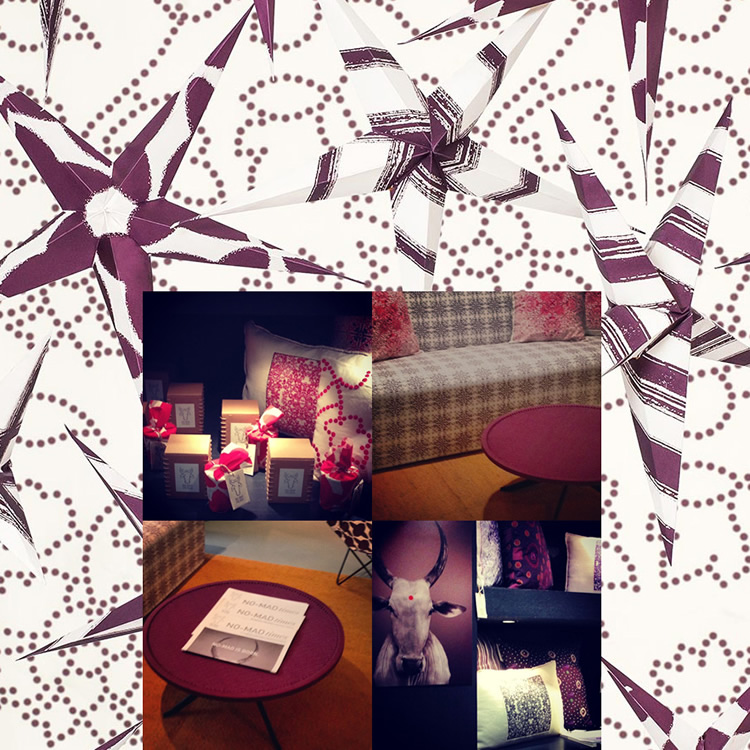 When Le Mill, this concept store of Mumbai asked No-Mad to take charge of its shop window and its reception area for Diwali, the brand immediately thought of recreating paper stars. Where did the inspiration come from? Indian tradition.
During the Diwali period, the streets, houses, alleys across India are all lit up. Lanterns, candles and paper stars lend to create this magical atmosphere. Decorations are in full swing in India for this prime festival of lights. Hands come together, fold and adjust papers to make thousands of stars.
A symbol of Diwali. An Indian symbol taken by No-Mad. The brand adopts it and adds its motifs and colors to register a little more in the Indian tradition. In Mumbai the paper stars are displayed. Where? At Le Mill. An opportunity to honor the brand aptly. No-Mad then crafted its own folded paper stars in plum color using its patterns. A reinterpretation? No, a simple game of disguise. Simple. Bright.
In the reception area No-Mad has upholstered a Le Mill sofa. From now on, all our fabrics are available by the meter, you can, as you please, cover your sofa sets, make your table linen, your curtains,…with all the fabrics of the No-Mad collection. As a preview, we introduce to you, our , "KAWA coffee table" , a light metal structure stringed with hand woven fine cotton cords.At Le Mill you will find our collection of candles and incense and an assortment of our cushion collection. Quite a selection for your D I W A L I gifts!