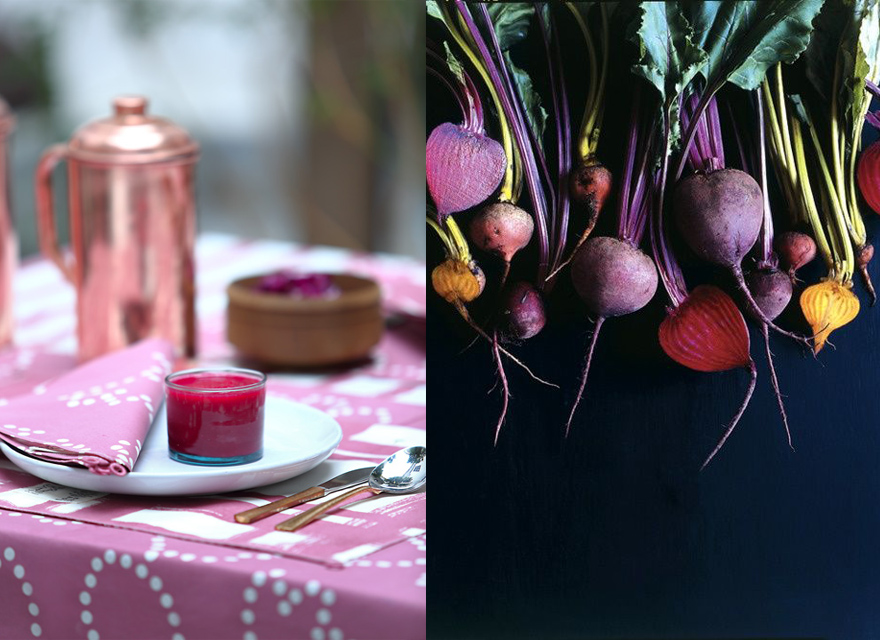 One eats with one's eyes. One associates a table with its dishes. One plays with codes at times trying to explore more incongruous universes. No-Mad dares a pink table… one that welcomes food of a fresh and unusual color. For the brand, table art includes table decoration as also food that it would like slow, healthy and natural. In keeping with its values, No-Mad recommends quality products, respectful of all and the planet. But also loyal to its philosophy, it likes mixing and that is done in Indian cuisine as also in world cuisine that inspires it. A lentil salad combined with red beetroot, fresh goat cheese and rocket leaves. A soft and sweet, fresh mixture which brings out the brightness of pink … like chick-pea humus and red bright coloured beetroot. As an accompaniment, a pomegranate and grape juice soaked with antioxidants and sun. Food products full of life, cooked respectfully and know-how. They invite us to sit meet around a table, spend good time together in a universe entirely created from No-Mad articles.
Beetroot and Chick-pea Hummus
For 6 persons
400 gm red beetroot
400 gm of chick peas
1 pod of garlic
1 soup spoon of lemon juice
1 yoghurt (100 to 125 g)
1 coffee spoon of caraway seed powder
2 soup spoon of olive oil
Salt and pepper
Cook red beetroot first and cut them into pieces.
Soak the chick-peas.
Put in a blender and mixer:
Beetroot, chick-peas, garlic, lemon juice, yoghurt, caraway seeds, salt and pepper and 1 soup spoon olive oil.
Humus is ready.
We present it in mouth-blown glasses found in Marrakech. Once humus is divided add the remaining olive oil in each glass.
Optionally, toast the bread and cut it into fine rectangles or cut fresh vegetables. The 2 are ideal "dips".
Lentil and Beetroot salad.
For 6 persons:
300 gm of dry lentils
1 shallots
3 soup spoon of olive oil
Cooking salt
1 fresh goat cheese
1 red beetroot
3 handful of arugula leaves
75 gm roasted walnuts
Salt and pepper
Cook the lentils with the shallots and the coarse salt.
Cook the red beetroot and cut it into small pieces. Also cut the goat cheese into small pieces
Mix the red beetroot with the lentils and add the rocket, the walnuts and olive oil.
Just before serving, add the pieces of goat cheese.
Pomegranate and Raisin juice
With the extractor, take the amount of pomegranate according to your taste. Adjust the sweetness by adding  grapes to the pomegranate juice. Serve chilled.