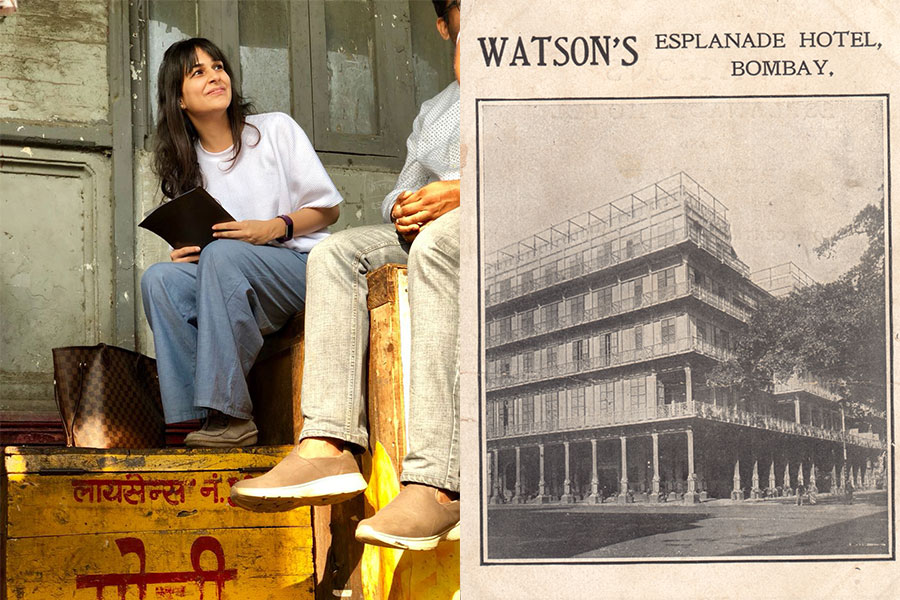 When we were launching the No-Mad Fabric shop in the Bazaar, we were exploring several ideas about  how we could make the launch more fun. Besides the  Map guide that we designed in collaboration with The CITY STORY, we also imagined a Bazaar Walk through our neighbouring area. To help our guests discover some hidden gems , we collaborated with Dr Simin Patel, better known by her alter Ego Miss Bombaywalla (Trust us, she had us at that name) to design a fun cultural walk around the Kalbadevi area.

A historian by qualification, Simin runs her company Bombaywalla Historical Works which allows localites and travellers both, to discover Bombay of the bygone era. Be it her curated walks around the city's photo studios or her  passion for Mumbai's  Irani Cafes, nobody knows Bombay better than her ! We  caught up with Simin for a quick chat over some Chai and cookies ( from Paris Bakery of course) at the No-Mad Fabric shop. (To realise much later that she was more of a Cold Coffee person!)
Tell us a little about your Educational Background     
I am a historian by training and have a PhD degree in South Asian History from Balliol College, University of Oxford. My dissertation focused on the ways the Parsi community of Bombay modernized in the 19th century. This piqued my interest in Bombay's social history and its vibrant built environment.
How did you start Bombaywalla? What was the idea and inspiration behind the name ?
With the assistance of my college friends Sitanshu, Shaun and Dj, I started Bombaywalla in 2013, to share my PhD research with a wider public, particularly Bombaywalla themselves. The idea was to make academic research exciting, engaging and amusing!  Bombay was obviously at the heart of our little project, and I think discussing the name with several people Bombaywalla came up. The shape the blog, the company and now the website has taken has been guided by many people.
Bombay or Mumbai ? And Why ?
BOMBAY Always ! One of the goals of Bombaywalla is to remind citizens of the original names of their streets, surroundings and city. Under the guise of labelling all original names as 'colonial', the state has changed names that reflected the city's flora and fauna, myriad communities, occupations and more. Over the decades, street naming has become a convenient tool to commemorate individuals, rather than more thoughtful ways to keep their legacies alive.
Tell us a little about your coffee Table book on Bombay's Irani Cafes.
It should be a tea-table book since Irani restaurants specialize in chai and bun-maska! In fact the book is fit for neither tea or coffee but a stiff peg or three since it thrillingly dives into the world of Irani strongmen and local dons and the cafes they operated from.
What next?
Finishing the book!

Three Go to Irani Cafes in Bombay
Café de la Paix at Opera House for the best chai and cheese bun omelette in town.
Britannia & Co. Restaurant at Ballard Estate for a lunch of Egg Berry Pullav.
Koolar & Co., the Kings of Matunga!
Three things to do in Bombay during the summer?
Cold Coffee, Cold Coffee & Cold Coffee.
Cold Coffee at the café of the Princes of Wales Museum, after a thorough walkthrough of the Museum and a visit to its special exhibitions.
Cold Coffee at the NCPA, before a screening of a play from the National Theatre.
Cold Coffee at the Race Course at Mahalaxmi, after a stroll or a visit to the  stables.

Three hidden gems to discover in the Mumbai Bazaar..
Swadeshi Market is the most charming of historic markets in the Bazaar area of Kalbadevi.
Definitely visit Pareshbhai at N. Ajani at Swadeshi Market for some warm hospitality. His 100-year-old store specializes in nutcrackers, knives, scissors and locks!
Then walk from K. N. Ajani in Krishna Gully to Kalapi Stores in Shami Gully (all in Swadeshi Market), and marvel at the most retro packaging of the Kalapi Talcum Powder brand, which celebrated its 90th anniversary this year.
What are your favorite places to travel to in India during the summer months and why?
As a kid, I used to visit the hill station of Mahabaleshwar with my family and friends. We would drive through the Ghats, with most of the other kids getting sick and throwing up along the way.I remember the strawberry and carrot sellers with their balancing baskets, the channa sellers and Imperial Stores in the main market, and long walks carrying wooden sticks with handles shaped like a dog's head.
Seasonal summer recipes / produce you love to stay cool and hydrated!
My cousin's son and I have been finding many green mangoes in our compound when we go for our evening stroll. My granny used to add green mango to omelettes, as my mum recently reminded me. Would No-Mad readers have any nice recipes for a green mango relish?
A travel memory related to summer in India!
Last May I visited Landour, an orderly hill station in Northern India. The sticky toffee pudding at Rokeby Manor was delicious and many long walks were needed to digest it.
Things you always like to carry with you while travelling & things you like to shop for and collect from your travels…
My trusted Louis Vuitton handbags, medicated toiletries, a book. Now I shop mainly for my studio- linen, crockery and cutlery, quirky objects
Where would you like to journey next?
Some place cool and hilly. I would also like to make a trip to the UK (my former home), though it seems unlikely this year.
Know more about Miss Bombaywalla, her eccentricities and quirks on her website : Bombaywalla Historical Works
Photo Credits :
Simin Patel – Kunal Merchant
Watsons Hotel Postcard  – PaperJewels.org
Britannia Cafe – Anurag Banerjee
Shop our collection of handmade products from the MUMBAI Bazaar on our web-shop HERE